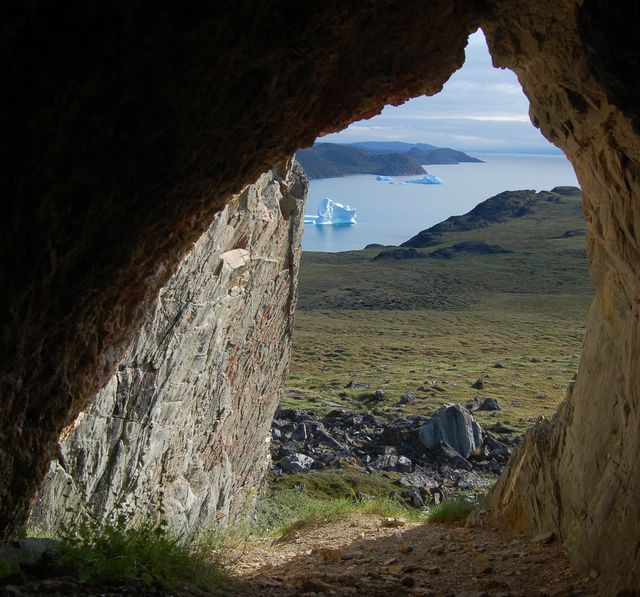 Kangerluluk Fjord and its icebergs. View from Bings Hule porch.
The Bings Hule cave is located 3 km South of Qasigiannguit (this village is in the South-East of Disko Bay, West coast of Greenland). A foot-path goes from Qasigiannguit to the fjord of Kangerluluk. The cave opens some tenths of meters in the East of this track, in the lower part of a cliff (68°48.049 N; 51°10.190 W; 76m a.s.l.).
| | |
| --- | --- |
| | |
| Location map | The cliff and the entry |
It is a little ascending cave of 8 meters development.
Bings Hule is not a karstic cave. It opens in gneiss within which is a slice of quartz. This slice has been partly emptied, allowing the place of the cave.
This slice can be seen on the picture on the cover (diagonal pink slice in the grey gneiss).
The "pink slice" in grey gneiss
Quartz is pink or white, and we also find mica.
| | |
| --- | --- |
| The two colours of quartz | Mica |
This cave would have been used for shamanic initiation ceremonies, and then as a praying place for a missionary.
In the shadow zone (lowest left part of the last picture), we find a drooping saxifrage (Saxifraga cernua). This plant seems particularly protected on the Ilulissat Ice Fjord protected area, 50 km farther in the North. (Saxifraga cernua). Cette plante est particulièrement protégée sur le parc du Fjord de glace d'Ilulissat, à 50 km plus au Nord).